Expanding upon a synthesis of mutual interest in music, fine guitars and vintage women, coupled with a healthy dose of humor, a roster of cunning musicians has been assembled to meet the needs of the working man's ear - Millionaire Seeks Lady. Drawing from influences as varied as their IQs, from Prince to the Eagles of Death Metal to Ween, the music and the ambience created by the members of MLS provide an atmosphere conducive to having a damn good time. Regardless of whether they're gigging your local pub or rocking dollar pint night at a club, MLS's energy and enthusiasm for making good music is transferred from instrument to audience.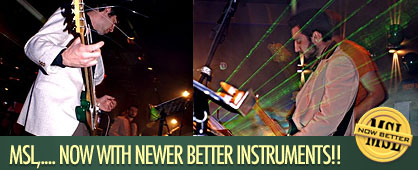 After discovering that neither their looks nor wits would be enough to pass on their superior genetics, Shawn Bannerman, Dave Drewe, Teddy Cosco, Nathan Ballard, and Brian McCormack soon realized that playing in a band would be the only way to assure their future proliferation. Stemming from meager beginnings as just a few guys jamming in a black mold infested basement, they've practiced and gigged their way into the band they are today : a few guys jamming in a black mold infested basement with better instruments.
Given the diverse nature of the talent and passion inherent in each member of the band, MSL has carved out a niche for themselves in both their sound and in their live show as a band who doesn't take themselves too seriously, but loves to make good music for good people having a good time.
I you would like to book Millionaire Seeks Lady contact us at bookings@millionaireseekslady.com